HEATER, LIGHT TOWER & GENERATOR!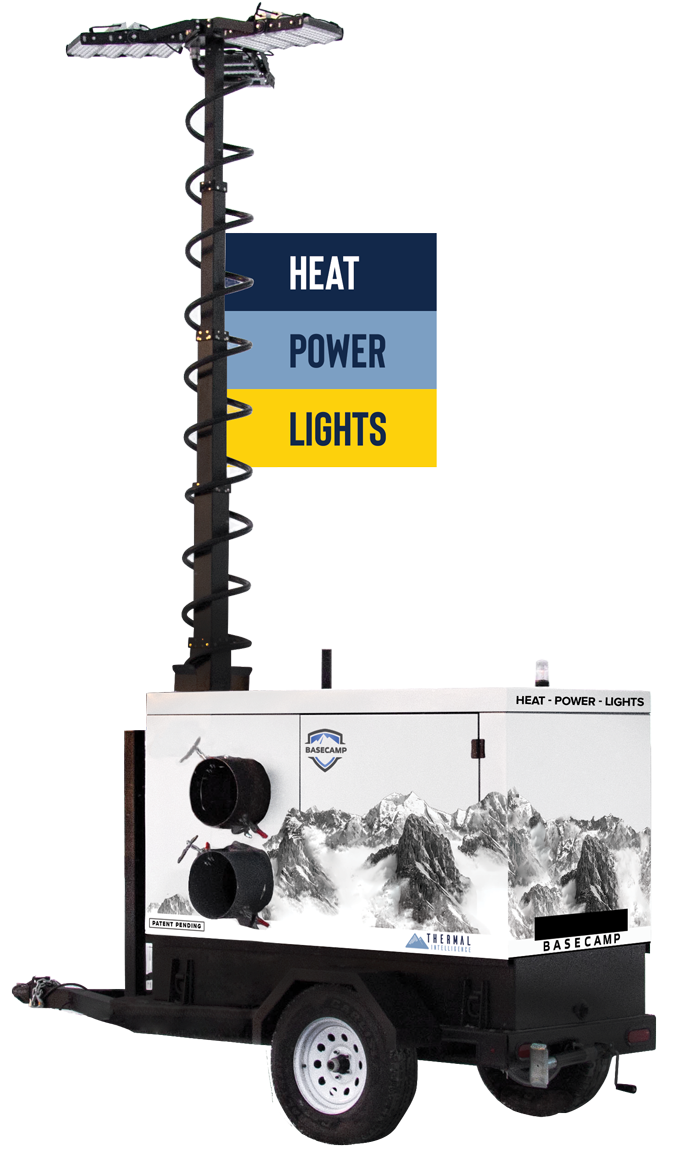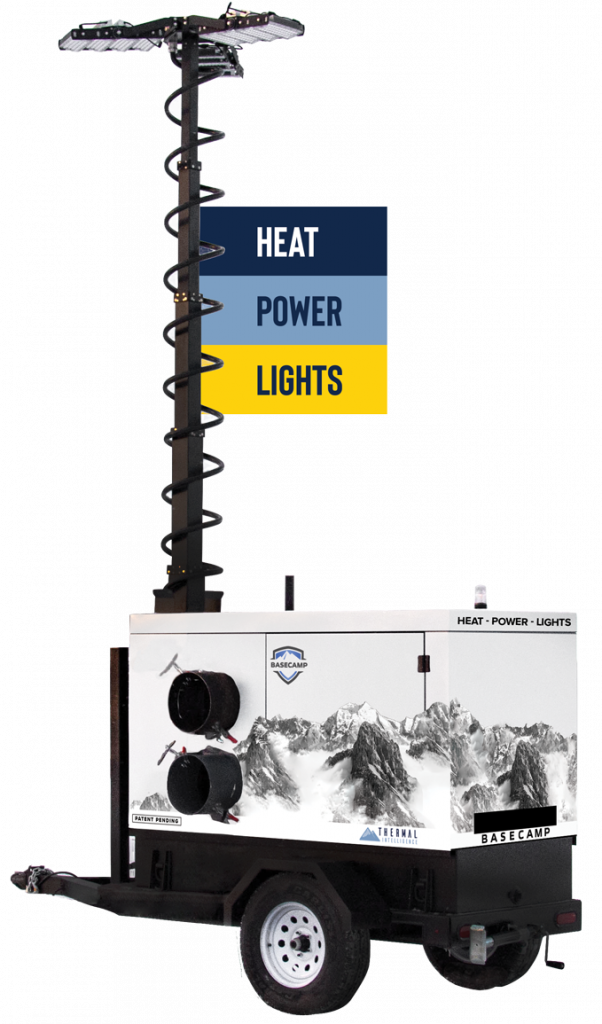 Thermal Intelligence introduces BASECAMP. 
A Smart 3-in-1 Heater, Light Tower & Generator. BASECAMP delivers market-leading efficiency as a Flameless Heater, and provides a 360° LED Lighting Package and 27kW of Available Power. With 2,500-hour service intervals and 24/7 Remote Monitoring & Control, your job has never been easier! 
Gone are the days where expensive manpower is required to monitor, maintain, and service equipment on a daily basis. With BASECAMP, the smart revolution has arrived!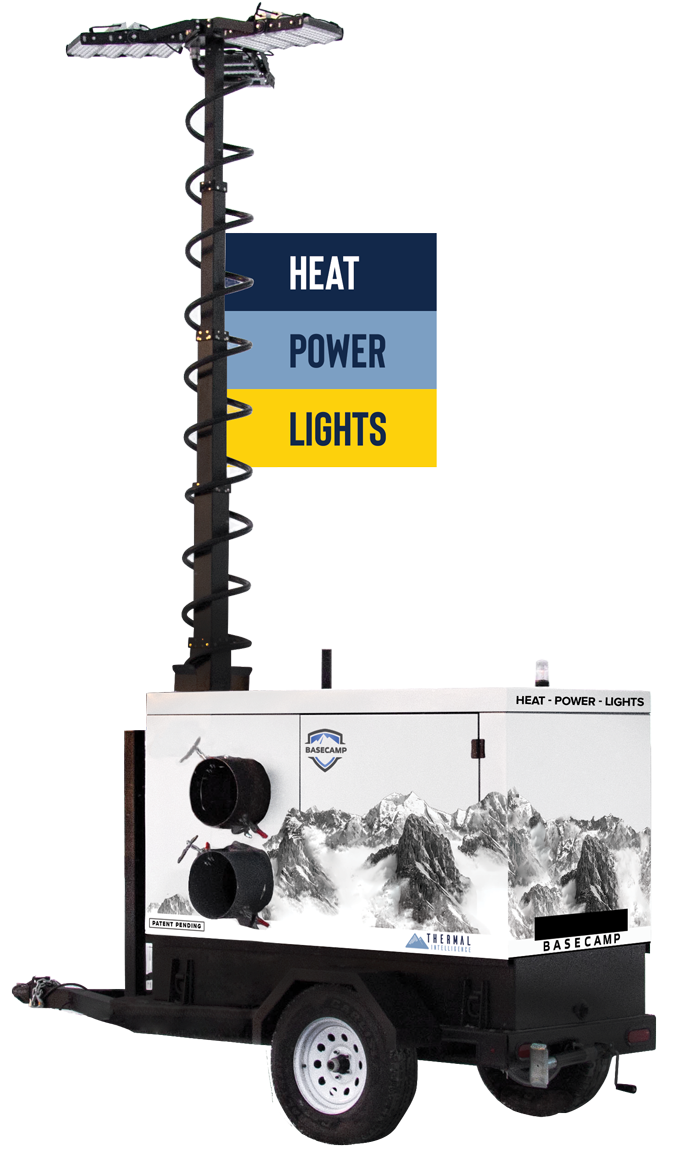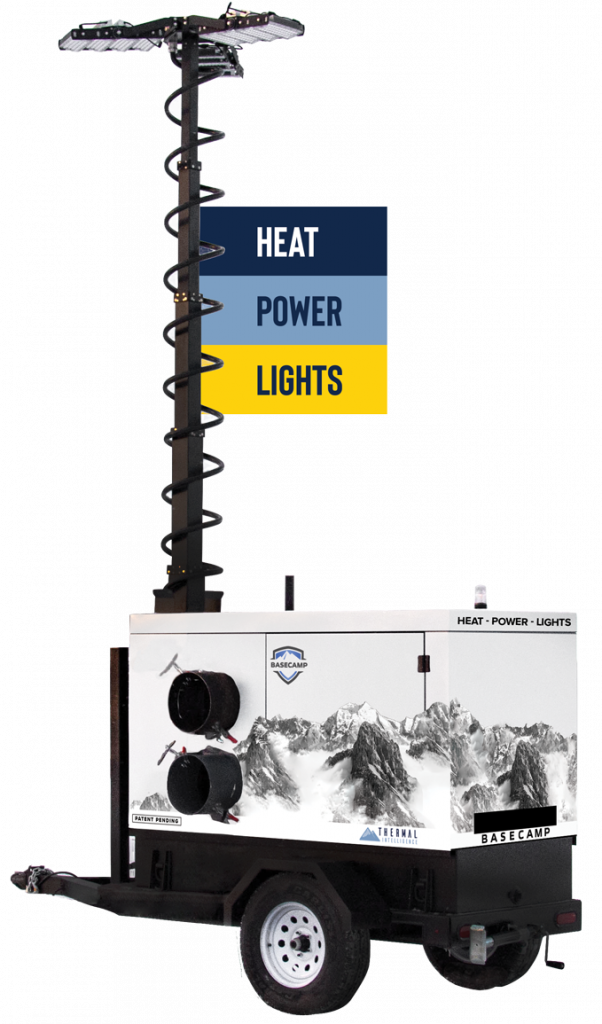 "Thermal Intelligence has created the new standard for temporary heat, power, and lights on a construction site."
Featured on: EARTH with John Holden
Thermal Intelligence is proud to announce that our flagship product BASECAMP (a Green Certified 3-in-1 Heater, Light Tower & Generator) was featured in the world-renowned television series 'EARTH with John Holden'. 
As a six-time Emmy Award winner John Holden takes viewers around the globe to showcase companies with eco-friendly initiatives and highlights the ways businesses around the globe are protecting the environment with their commitment to creating a better world.
"After being in charge of extreme-cold construction sites for 10 years – my partner and I saw a problem: heaters."
Industrial Heaters eat fuel like it's their purpose in life. They break down constantly, creating massive project risks.
And they run on ancient technology that's simply unreliable.
We started Thermal Intelligence to solve these problems once and for all – giving you safe, cost-efficient, reliable equipment you can trust. 
You have enough on your mind in managing tough-weather projects. You shouldn't have to worry about consistent delivery of Heat, Power & Lights. 
Read on to learn more, and when you're ready, schedule a call with my team.
We'd love to learn all about you and your needs, and tell you how BASECAMP, our new Industrial Flameless Heater, Light Tower & Generator can help.
Designed to be the Most Risk-Free Flameless Heater, Light Tower & Generator in the World.
The BASECAMP poses no risk of fire, and produces safe breathable air for worksites, but we didn't stop there…rather than endlessly patrolling your equipment, and checking for problems, our equipment tells you before something goes wrong through our SmartTalk wireless alert system.
Incredibly Cost-Efficient.
BASECAMP can replace two traditional indirect Flamed Heaters, one Generator and one Light Tower all while burning 70% less fuel.
There's only one question: What will you do with all that extra budget?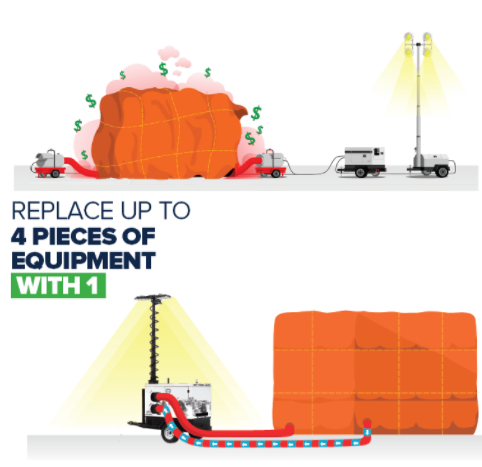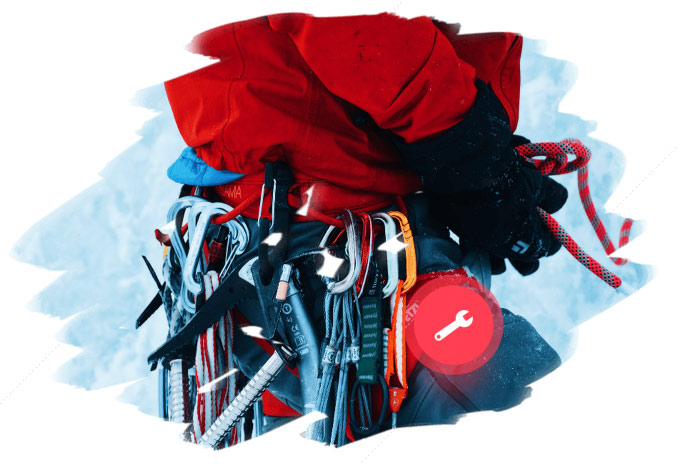 So Reliable, You'll Forget They Are Even There.
Traditional industrial heaters — even the flameless ones — are powered by outdated technology. They break down regularly and need constant maintenance & refuelling, keeping you on edge, waiting for the next problem to arise.
But our 3-in-1 Heater, Light Tower & Generator is powered by state-of-the-art systems, and can operate up to 75% longer without needing service.
The result? Less maintenance costs. More peace of mind.
Up to 3250 CFM of raw heat, delivered up to 250 feet away, with 97% efficiency.
Discover how Thermal Intelligence's 3-in-1 Heater, Light Tower & Generator was designed to be a powerful, high-performing machine like never before.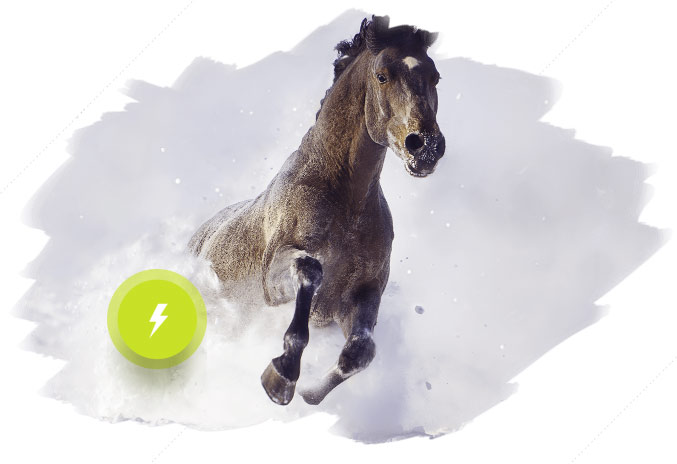 "Innovation distinguishes between a leader and a follower."
Thermal Intelligence continues to deliver the largest leaps in heating technology. By turning an ultra efficient heater into a smart device – we have brought the modern age to your worksite.
With SmartTalk you truly work smarter not harder.
Now, not only can you monitor multiple temperature sensors, current performance, fuel levels, and control the equipment from your smartphone, but you will be notified 24/7 of any potential system interruptions.
Our proprietarySmartTalk platform is designed to eliminate labor associated with monitoring heaters. SmartTalk monitors all primary systems 24/7 delivering real time alerts if set points cannot be achieved, or if any potential trouble is on the horizon.
Consolidated "Uptime" reports are generated weekly for your entire fleet with the ability to view any of the weeks service interruptions. Systems data is than used to optimize equipment performance and enhance the ongoing engineering of the heaters.
Absolutely! We'd love nothing more than to demo our Basecamp flameless heaters for you in person.
We can also answer any questions you have about your specific heating applications too.
Head on over to our contact page to schedule a time.
Yes, our heaters really are that efficient.
So why aren't all heaters that efficient?
From our extensive time in this industry, the answer boils down to dollars and cents: The companies who have the most market share haven't had any real competition. So they haven't had to change or evolve.
We don't believe that's a good way to do business though.
We believe that if a better option exists, it's our duty to do everything in our power to present you with it.
Because they wouldn't evolve – we did. And now, as a result, you get a far more cost-efficient and risk-friendly heater.
Write, call, send a messenger pigeon! Whatever is most comfortable to you.
Head on over to our contact page for all of our contact info. Reach out any time. We'll reply fast.